www.janicepriest.com
Dr Janice-Ann Priest
Kn. N.C. Master Herb Degree Cert Reflex D.Sc. Chartered Natural Health Practitioner Committee SNTR.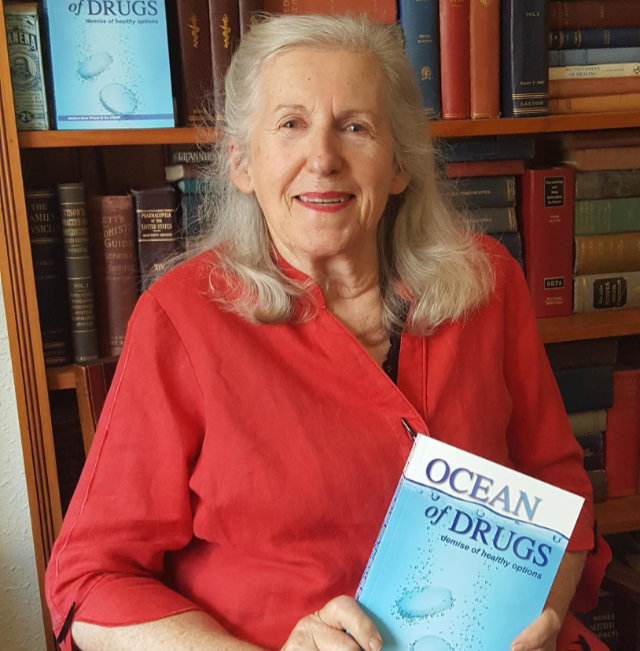 Dr Priest, as a natural health consultant, author and lecturer with over 40 years in the trade, is well versed in many areas of natural and nutritional healthcare.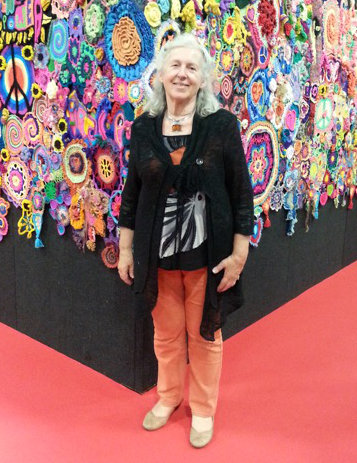 A lecturer and practitioner in most natural health modalities, such as nutrition, herbalism, homobotanicals, reflexology, iridology, homeopathy and many holistic subjects. Business women of the year in 1995, Janice originally trained as a children's nurse before qualifying as a naturopath with the vision to retain natural health treatments in an era of drugs and medical treatments that have dramatically increased side-effects, deaths and pollution in the world.
Author of several natural health books, magazines and booklets. The popular reference book 'Can You Remember What To Take', the next book 'Our Health At Risk' is a history and bibliography of the New Zealand's health system and the latest is 'Ocean of Drugs – the demise of healthy options. A past video on 'Stress Management' and numerous resource booklets as well. In 1985 Dr Priest developed the natural health magazine Healthy Options, followed by a holistic mind, body, spirit magazine called Rainbownews. Both became international magazines, but ceased publishing in 2010 after 28 years. In 2007 she launched the health series booklets called Healthnews, all this under her company Healthy Options Ltd. To keep all that resourceful natural health information available articles from Healthy Options magazine are now being uploaded weekly on www.healthinformation.co.nz.
Additional to her publishing company Dr Priest has a well established education resources training centre company, Herbal Ltd, registered in 1987, providing certificated correspondence healthcare courses for those beginning their journey into natural health. Alongside her naturopathic practise in Tauranga.
Dr Priest has spoken at many major events such as the International Women's Health Congress, worked in hospital environments such as the Hoxsey Clinic, Mexico. She has a Healthy Options Charitable Trust which launched the first Alternative Cancer Congress in 1996, as well as the infamous "Te Ora' document, to protect flora and fauna from patenting proposals, in 2005. Consultant to Indigenous health issues, with one such research program sponsored by the Tauranga Moana Maori Trust Board.
Granted a Hon Doctorate in 2001 for her community work and encompassed a Doctorate in Religious education in 2003. Dr Priest has spent many years involved in political movements to help maintain health choices for the public. From the successful Nuclear free stand to the present day NZ rejection of the draconian Trans-Tasman Harmonisation international trade proposal with drug regulators. Janice stands by the principal of sound natural health, self-care opportunities and environmental issues for a healthy community and planet.
She is a past committee member Citizens for Health Choices, NNFA, International Products Assn and NZ Herb Federation.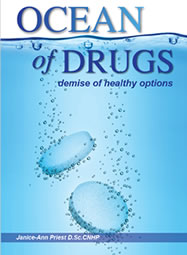 Don't Miss Dr Janice-Ann Priest's Latest Book...
Ocean of Drugs -

demise of healthy options
Covering the increasing power of big pharma, at the expense of traditional health and our mother earth.
Price is $32 plus postage,
overseas rates apply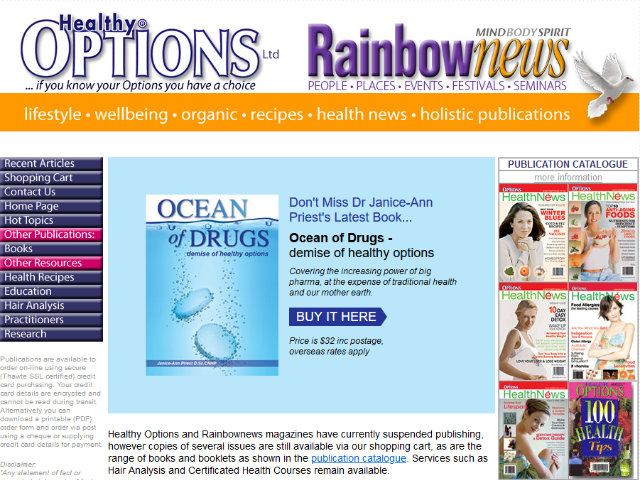 Healthy Options magazine, after years of print publishing wellbeing, lifestyle and natural health related articles has gone digital. Website access for all your natural health tips, nutritional guidance, informative therapies along with interesting health topics, plus a wide range of natural health related articles all written by health professionals and a Free-ebook of 'Can You Remember What To Take' are available on your browser via www.healthinformation.co.nz.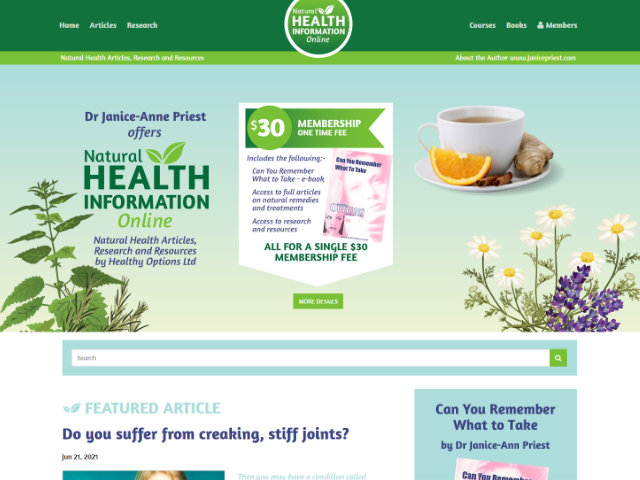 Health Information provides members with unlimited access to published natural health articles and information from years of publishing the well known international Healthy Options magazine. Membership allows us to continue providing important and informative natural health information for your benefit and enjoyment.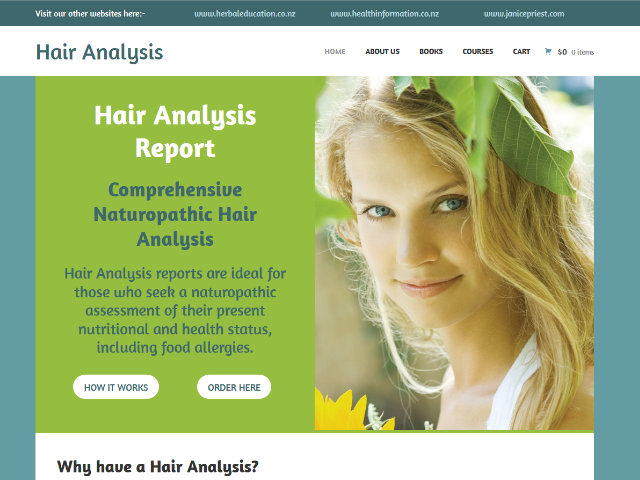 Hair Analysis is a service that Dr Priest provides for those who wish to look deeper at their health. This naturopathic comprehensive analysis covers everything from parasites, toxins, chemicals, nutrient deficiencies, virus's, food allergies and organ energy and summarizes with healthy solutions. A must when unsure what is going on in your body.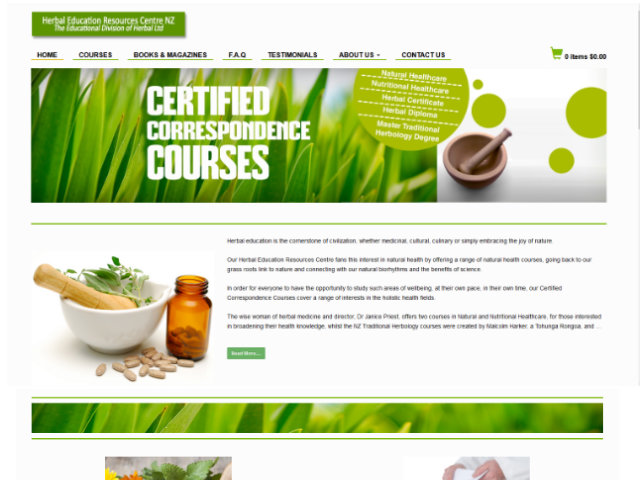 Herbal Education is an education facility, established in 1987 under Herbal Ltd to provide basic healthcare and nutritional certificated correspondence courses for those interested in furthering their knowledge and career in natural health.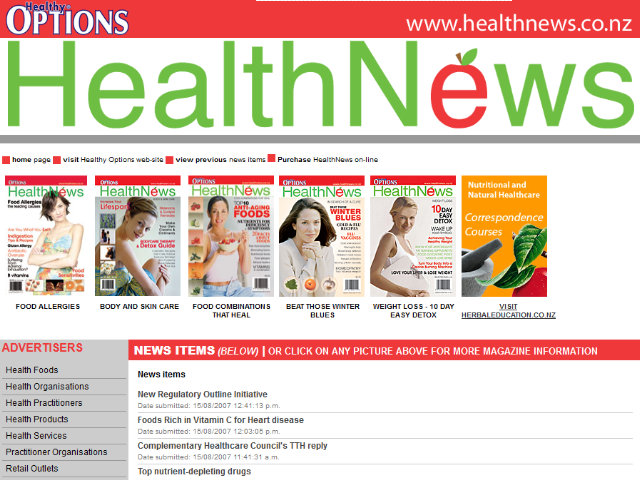 Health News is an A5 magazine featuring specific health topics in each issue. A comprehensive, practical, up to date self-care tips and ideas publication with ideal for your reference library. Issue one is about colds, flu tips, recipes etc, issue two is all about food & nutrition, the third issue on summer body and skin care.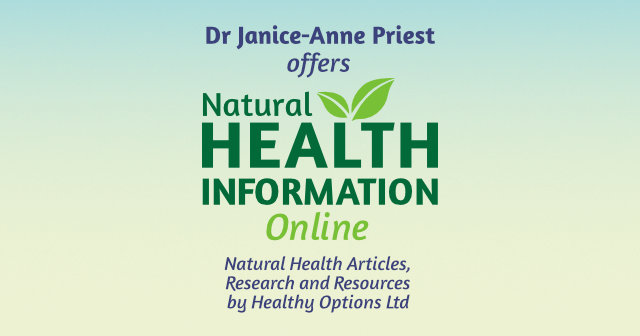 Contact Options
Postal Address:
PO Box 6041, Tauranga 3146 New Zealand